I am so excited that you are here today! My Daisy Lane Specialty Class has been advertised for some time and it's finally here. There are so many wonderful projects to share with you that participants will be making tonight.
First off, who couldn't use some "Card Candy for a quick add on and focal point for your card or scrapbook page? These all feature the new Daisy Lane Stamp set by Stampin' Up! as well as the coordinating Daisy Delight Stamp set. You might notice one of the new In-Colors Purple Posy with the "Hello" tag. I also used the new Nesting Dies for the "Thinking of you" tag.
How about some more projects?
For this class, my participants are creating the "card candy", 3 cards, and 1 note pad holder. I want to share the 3 cards with you. I love this one with the Poppy Parade flowers and fun dotted background. I love yellow and this card highlights it well. My oldest daughter decided on my layering colors and I think she did a great job with Daffodil Delight and Pear Pizzaz.
This next card was inspired by Karen deLatt. She posted a video showing how she got the adorable bunny from Fable Friends to hold the daisy. I really was inspired by Karen's card and created a variation of my own.
The colors for this card are Grapefruit Grove and Balmy Blue. They go really well together. I used Stampin' Blends for the bunny. I can't stop loving this bunny!
This next card is a shift from the other projects for the class. I decided to focus on the "fern" stamp and create a more masculine card. I wanted to show the versatility of the Daisy Lane stamp set. This project was also inspired by another demonstrator from Andrea Gutzner who is way over in Europe. It's amazing how social media brings us all together.
For this card, I wanted to focus on the new Woven Threads Trim from the new Annual Catalog. This is so beautiful and rich looking. It goes perfectly with the Sahara Sands cardstock. Try this card in any color combinations you like. It will look perfect.
For the last project in my Daisy Lane Specialty class, I wanted to give the participants a place to organize and identify their favorite products and techniques. Participants are creating their own Daisy Lane note book holder.
This project uses the clear mount stamp cases. From there, you just need a piece of beautiful DSP cut at 10 1/2" x 7" for the insert. I am using DSP from the Garden Lane Suite.
On this side, participants can tag pages in the catalog they really like and use the pocket for many things like stamps, envelopes, and more.
The note pad is the best. During classes, many of my stampers will write down notes for themselves like what colors or techniques are being used on their stamping mat, and then tear that part off to keep their note. Well this note pad is perfect now because all of their notes can be organized and kept together to refer back to.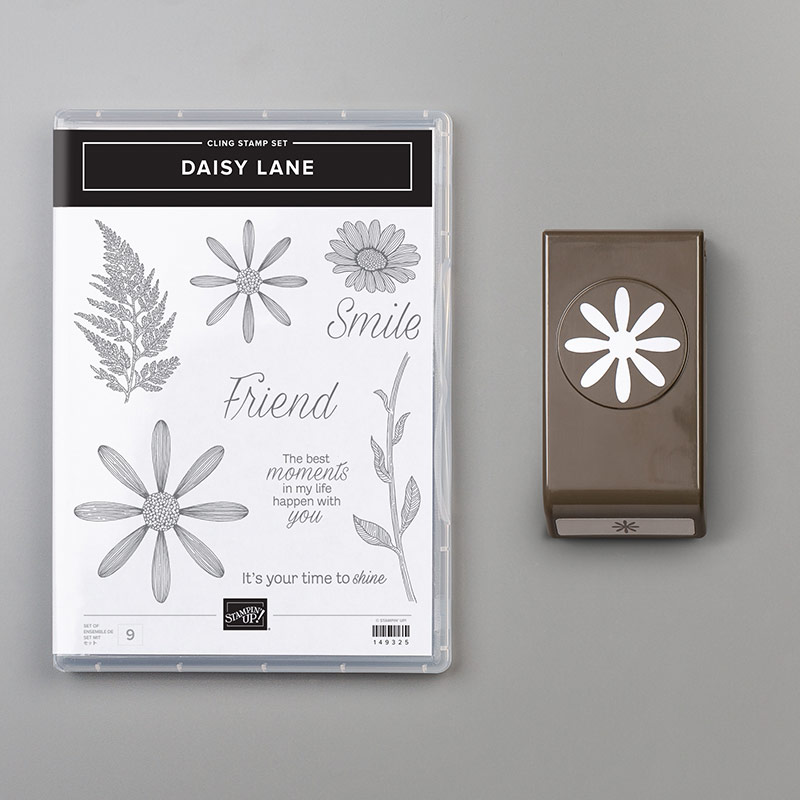 Ready for your own creativity with the Daisy Lane Bundle? Simply click on the image to order yours. I appreciate you choosing me as your demonstrator. Check out this great video featuring the Daisy Lane Bundle by Stampin' Up!
Thanks again for joining me today. I am so excited to share all of these projects with you. You can check out many more great projects on Pinterest too.
If you are in need of any products you can
place an order
online
.
I appreciate you choosing me as your demonstrator. Be sure to use the
current
hostess code #4MSHV9MR when placing your order.
If you place a $150 order, don't use the hostess code.
You qualify for your own hostess benefits.
Please do not mark "No Contact" when you order. I won't be able to contact you to award you with Loyalty Bucks or prizes.
Remember that when you order on-line, you can earn "Loyalty Bucks". For every $25.00 you order, you receive 1 loyalty buck. Collect 20 loyalty bucks and you receive $30.00 free merchandise. Be sure to comment and share this blog. I'd love to hear from you.